Katie Rehkop packed what she could of her semester into her mother's Ford SUV on Friday.
With the help of her mom, Krista, and younger sister, Kelsie, the freshman carried her mini fridge, bags of clothes and other belongings out of K-State's Wefald Hall and piled them into the vehicle, leaving only small spaces for the family to sit in for their three-hour drive back to Concordia, Missouri.
What she left behind, she said, were the unmade memories of exploring Manhattan as the town springs back to life with the warmer weather. The sorority formal at which she wouldn't get to dance. The missed opportunities to meet and hang out with new friends.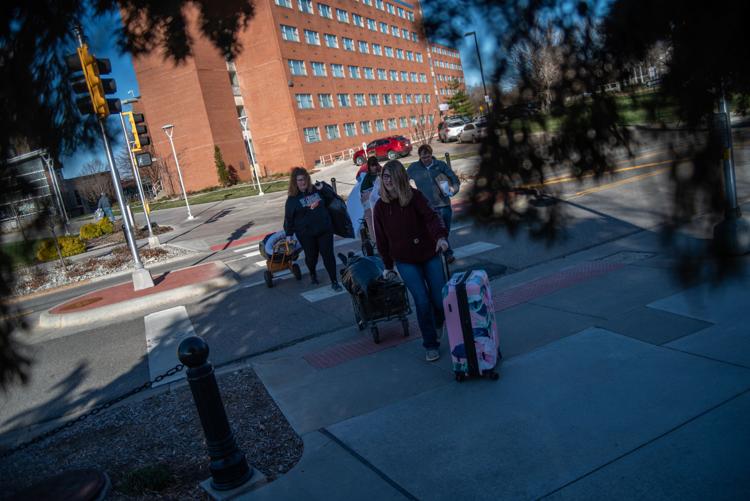 Friday was the first day of K-State's sudden 10-day move-out at residence halls after on-campus operations came to a sudden stop amid the ongoing coronavirus emergency. Through the end of March, K-State officials expect to move out 3,100 students in the halls.
"I was pretty upset," Katie said of when she first heard the news. "I knew the rest of the semester being online would be an option, but I did not think it would actually happen."
Dozens of students, some accompanied by family members and friends, were already at the residence halls ahead of the first move-out slot at 9 a.m. Friday.
To minimize the potential risk of exposure to the virus and stay within social distancing guidelines, housing officials put strict restrictions on the move-out process. Students could only bring two people to help them move-out, with a one-hour limit on their move-out, so as to ensure only 18 students were in each of the large halls at a given time. The smaller residence halls were even more restrictive, capping their move-outs at nine students per slot.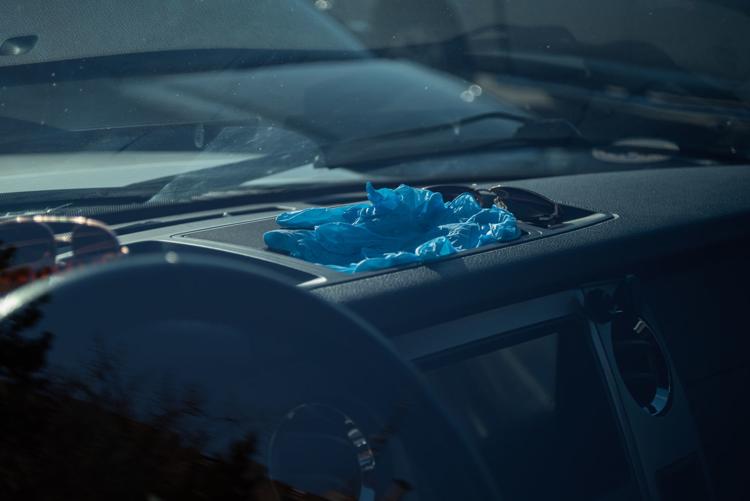 Even though the Riley County Health Department ordered a stop to all public gatherings of more than 10 people, K-State officials said Friday they expect to be able to continue with the move-out, unless the health department orders differently. Students were made to use hand sanitizer and put on gloves as soon as they entered the residence halls.
"It's all surreal," said Danielle Lindquist, a junior from Kansas City. She was moving out by herself, but she said she figured moving out of her suite would be relatively fast. "I can't believe this is happening. It's one of those things where you just have to take it one step at a time. I'm not panicking or anything, but it's all so surreal."
Freshman Paige Walker and her father drove more than 20 hours from Bakersfield, California, to collect her belongings, and they were preparing to immediately drive back to the state, where Gov. Gavin Newsom issued a stay-at-home order Thursday evening. She'd only packed a small suitcase for spring break before K-State officials made the decision to cancel in-person classes.
Despite the rushed nature of the moveout, Walker, and most of the students at the halls, kept an upbeat attitude, recognizing the volatile nature of the situation.
"You don't expect to move out in March. You expect to move out in May, at the end of the year," she said. "My roommate's not here, my friends aren't here, so it's not like I could say bye. Being from California, it's not like I can just drive two hours to see them. It's a very bittersweet feeling."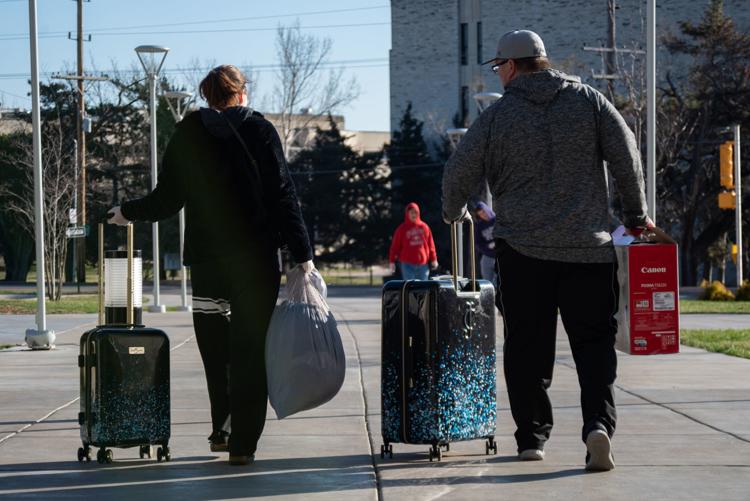 A pre-psychology major, Walker said online classes might be a headache to deal with, but most of her classes were introductory classes anyway.
"I'm taking it one day at a time," she said. "Education is important to me, and I understand the sacrifices my parents made for me, so there are motives to do really well and continue to do as well as I can in my classes. It's a day-at-a-time kind of process."
K-State's vice president for communications and marketing Jeff Morris said the university expects to issue more than $8 million in prorated refunds for unused portions of residents' housing and dining contracts.
President Richard Myers told the Kansas Board of Regents Wednesday that those refunds, combined with other emergency operational expenses and lost revenue, would mean a $21 million financial hit to the university.
And with $5.6 million in scheduled debt payments for K-State Housing and Dining construction and renovation projects due April 1, university leaders are still working to identify the full financial fallout of the change in K-State's operations.
In the meantime, K-State will continue to pay its housing and dining employees, Morris said, including student employees like residential assistants, who will transition to a virtual RA role that K-State is developing. Full-time housing staff who live in the residence halls will remain on campus as essential employees, and some will oversee approximately 40 students with no alternative housing options who will stay on-campus through the end of the semester.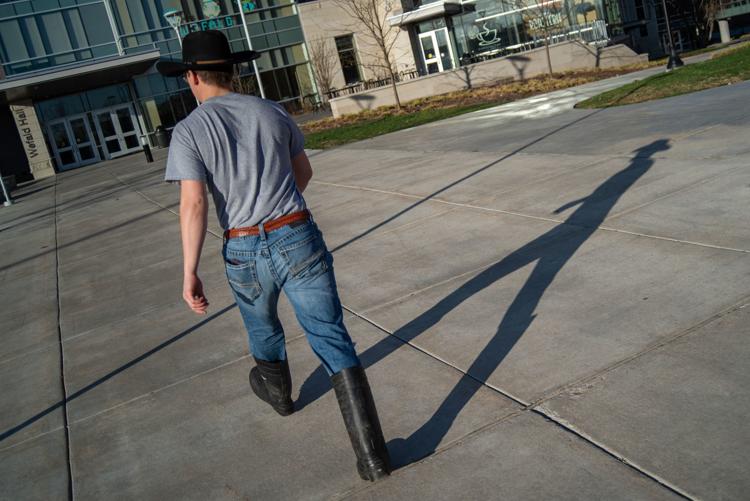 Housing custodians will receive training by K-State's Biosecurity Research Institute, Morris said, and Environmental Health and Safety staff are training on proper personal protective equipment use. They will throw out any items left behind by students. Fresh food stores in the dining centers, which were already low in anticipation of spring break, were donated to the Cats Cupboard student food pantry, while frozen items were stowed away for some day when students are back on campus.
Outside Wefald Hall, Katie briefly said hello to a few other students she knew who were also moving out, while hurrying to get things out of the residence hall. Some families took to saran-wrapping bookshelves and cabinets and carrying them out as single units, so as to expedite the process. Others brought personal dollies, students were not allowed to use the residence halls's carts.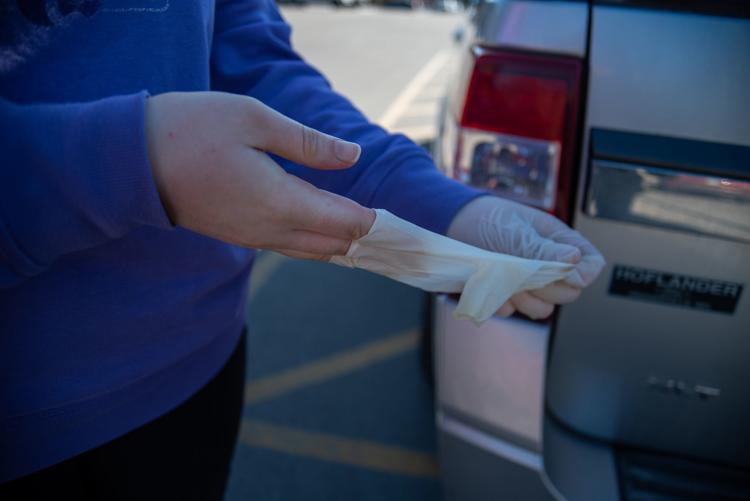 The Rehkops finished filling the SUV, but then they realized they had forgot to pack the dolley they brought.
"Son of a scooter," Krista muttered, and the women began to take some of the items out of the SUV. But Krista quickly rearranged things like a game of real-life Tetris, making room in the cramped car.
Finally, the Rehkops were done with Katie's spring semester move-out. They were going home.