Bishop Jerry Vincke isn't much of a coffee drinker, but when he met with Pope Francis earlier this month, he had his fair share of cappuccinos, because when in Rome…
Well, you know.
Vincke, the Catholic bishop for the Diocese of Salina (which Manhattan is a part of), joined a delegation of bishops from Kansas, Iowa, Nebraska and Missouri who met with Pope Francis at the Vatican in early January as part of an "ad limina" visit. "Ad limina" means "to the threshold."
In the Roman Catholic Church, each of the world's 5,300-plus bishops must travel to the Holy See every seven or so years to give the pope an update on their respective territories. American bishops are divided into 15 regions, and Vincke, a member of region nine, made the five-day trip with about a dozen other bishops from the four states.
But it wasn't Vincke's first time meeting Pope Francis, nor was Francis the first pope he'd met. Before the papal nuncio (the Vatican's diplomat to the United States) asked him if he he'd accept the appointment to the Salina region's bishop seat, he was stationed in Michigan for three years as a priest, and before that, he was the spiritual director for the Pontifical North American College in Rome for five years. He was first ordained to the priesthood in 1999.
Vincke said he knew his way around Rome pretty easily, and the bishops even stayed at Vincke's former college. He said it was refreshing to see people he'd worked alongside for half a decade.
During the bishops' two-hour meeting with the pontiff, each bishop briefly introduced himself.
"I was a little disappointed — I recognized him but he didn't recognize me," Vincke joked.
At the same meeting, Bishop James Johnston of the Kansas City-St. Joseph diocese gave Pope Francis a signed Patrick Mahomes jersey. Clark Hunt, the owner of the Kansas City Chiefs who are in Sunday's Super Bowl, is Catholic, so when he heard Johnston was visiting the Pope, he sent Pope Francis the jersey.
Francis, who himself is considered the bishop of Rome, sat the holy men down in a semi-circle, with him in the middle, and told his brother bishops to ask him anything. The questions ranged from his schedule (like if he ever takes a day off) to dealing with division.
"The pope just answered that question gently and said, 'We have to treat people we may disagree with with respect and dignity as people,'" Vincke said. "I thought that was great.
"Beside meeting with the pope, we also met with other Vatican leaders," he continued. "They all emphasized treating people who may be difficult gently, and being good shepherds to them. It was a good reminder that we're not here to make war. I'm not saying we're just trying to get along, but we're trying to be good listeners and love people."
The pope's message
On the pope's part, Vincke said that Francis iterated that he and other Vatican officials are well aware of the struggles that rural dioceses like those in the four represented states face. Vincke was in Manhattan Wednesday to celebrate Mass with Manhattan Catholic Schools for National Catholic Schools Week, but he regularly travels to the diocese's 86 parishes, which stretch from Manhattan on to the eastern end to the Colorado state line.
Priest shortages have hit rural communities particularly hard, and in some areas, priests trek to three different churches on Sundays.
Pope Francis also said he and other officials were aware of the struggle the Catholic Church has faced, particularly in America, in recent years in dealing with allegations of sexual abuse by priests. In 2018, Vincke attracted scrutiny because he had agreed to the Archdiocese of Washington, D.C.'s request to house the disgraced former archbishop and cardinal Theodore McCarrick at the St. Fidelis Friary in Victoria, Kansas.
McCarrick was one of the Catholic Church's top officials before he was accused of sexual misconduct with adult seminarians. Last February, McCarrick was defrocked and stripped of his title, and earlier this month, he moved away from the friary to live in seclusion with other priests who had been removed from ministry.
Since Vincke agreed to house McCarrick, the bishop started an investigation into the diocese's files of priests and history of allegations, and in March, the diocese released a list of 14 priests who had substantiated allegations of sexual abuse of a minor. None of the priests are in active ministry, but one of the priests, Monsignor William Merchant who died in 1975, was accused of molesting and sexually assaulting several boys while teaching at Seven Dolors Grade School and Luckey High School, now Manhattan Catholic Schools.
Two other priests, the late John Moder and Robert Reif, on the report lived in Manhattan at one point. Moeder was deceased when the 2018 allegation was made against him, and it was not immediately clear if Reif's alleged abuse occurred during his time in Manhattan. He has since been defrocked.
Vincke said he's well aware of the mistakes the diocese has made in the past but emphasized that the diocese is working to rectify any lingering harm.
"We're still in the process, and I personally went to all of the parishes in the diocese and apologized to the people for what happened in the church," he said. "We still have more work to do for our victims, and we're trying to figure out how we can best help the people who are hurt."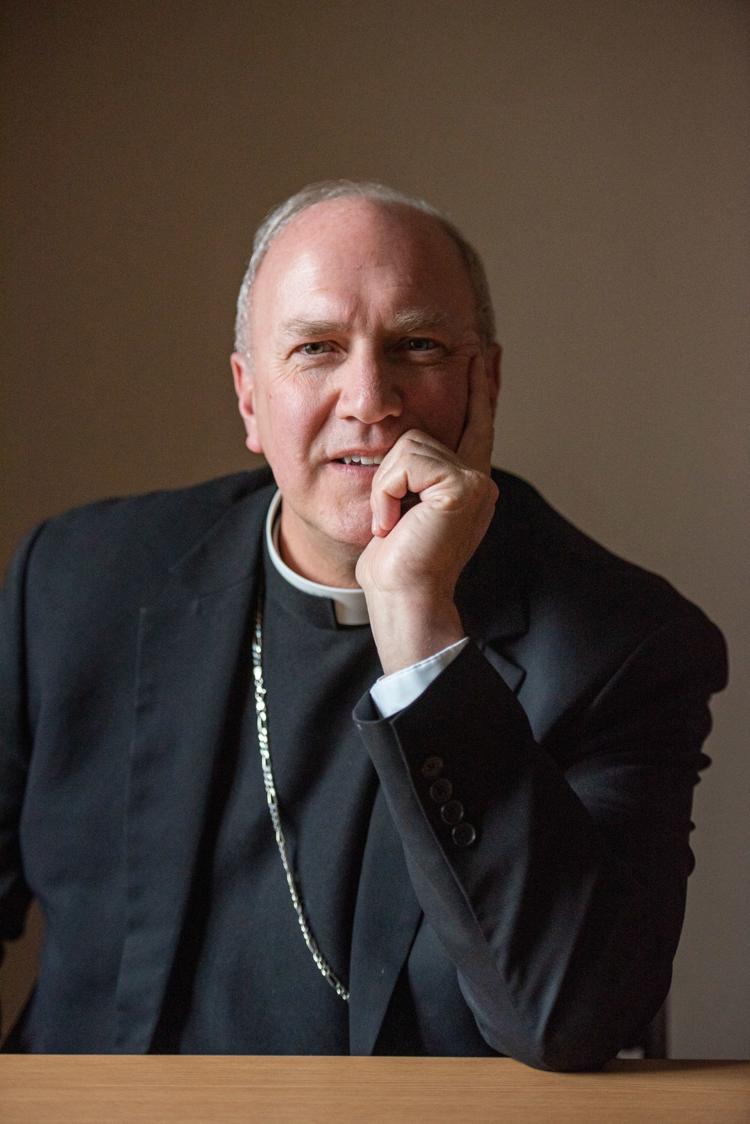 Beyond the visit with the pope and other church officials, the bishops traveled around the Vatican and prayed at the tombs of St. Paul and St. Peter. But Vincke said his biggest takeaway was the hope that Pope Francis inspired in him and in other members of the church.
Locally, church members from across the region have committed more than $12.3 million to a campus expansion at St. Isidore's Catholic Student Center, and with much of that money coming from outside of the transient congregation, Vincke said the diocese has enjoyed playing its role in encouraging the faith in young people.
"I think it's great for our students, for Manhattan, and it's going to be a great blessing for Kansas State University," he said. "It's been shown that when you have a nice Catholic student center, you get more students, so I'm really, really excited about it.
"I love coming to Manhattan, and the people in Manhattan are wonderful," he continued. "The three parishes work very well, and the priests here are very special. They love the people, and they love to serve."