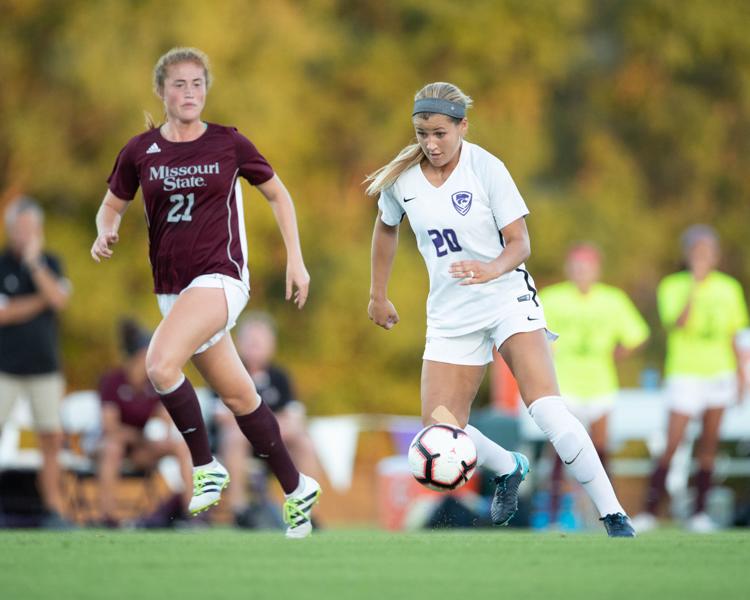 Kansas State soccer jumped out to a two-goal lead in season opener against Creighton, but couldn't respond to three unanswered goals and fell 3-2 on Friday night at Morrison Stadium. The Wildcats have lost 10 straight matches, a streak that began in the 2018 season. K-State also has dropped five straight on the road.
"I thought we came out well," K-State head coach Mike Dibbini said in a release. "We executed the game plan for the first 20 minutes and then we took the foot off the gas. Like I have said before, mentality-wise, we have to manage momentum. We just couldn't manage the momentum. I don't know what happened. We kind of fell asleep a little bit. We gave up a suspect PK (penalty kick) that got them back in the match. Those are moments and detail moments that we have to manage on the field. If we could do a better job of that, it will help us."
Kansas State started the season strong with a goal in the fourth minute when Emily Crain passed toward the middle of the 18-yard box, setting up Katie Cramer's first goal. Cramer out-muscled a defender and the Creighton goalkeeper to head the ball, which bounced and rolled into the goal.
Before that goal, the Wildcats were on a road-scoreless streak of 381:51. That drought began last September at Tulsa. The goal ended an overall scoring drought that stretched 317:11, which started Oct. 14 against TCU.
Cramer wasted no time being aggressive on offense, scoring her second goal in the 11th minute. Brookelynn Entz, who notched her fourth career assist, had a free kick opportunity from the inside midfield and lined a ball to the top of the 18-yard box and found Cramer. She then deflected and the ball bounced past Creighton's Katie Sullivan to give the Wildcats a two-goal lead.
Cramer joined Entz as the only players in program history to score two or more goals in a match. The pair also is tied in career points with 18 each, the most in program.
Creighton struck back right before the half when Taryn Jakubowski got a penalty after being brought down inside the box in the 45th minute. She scored with a ball in the lower right corner.
It didn't take long for Creighton to equalize in the second half, getting the second goal from Skylar Heinrich in the 49th minute on a cross from Cassie Legband. The Bluejays finally took the lead in the 63rd minute when Keelie Fothergill got a ball past Wildcats' goalkeeper Rachel Harris after Harris made a stop on a shot by Kylin Grubb.
The Wildcats had a few opportunities to tie the match in the final two minutes but fell short of converting. Creighton won the shot advantage 19-14, while Kansas State had more corners with 2-1.
"This is a good game for us in front of their big crowd," Dibbini said. "We have to give Creighton credit. They are a good, solid team. They are athletic and they have some game-changing players. We just need to be ready to go. These are the games that will help us in the Big 12 and (we'll) see how we rebound in the next game."