The power of wastewater: $2M grant will help KSU researcher explore ways to clean, use it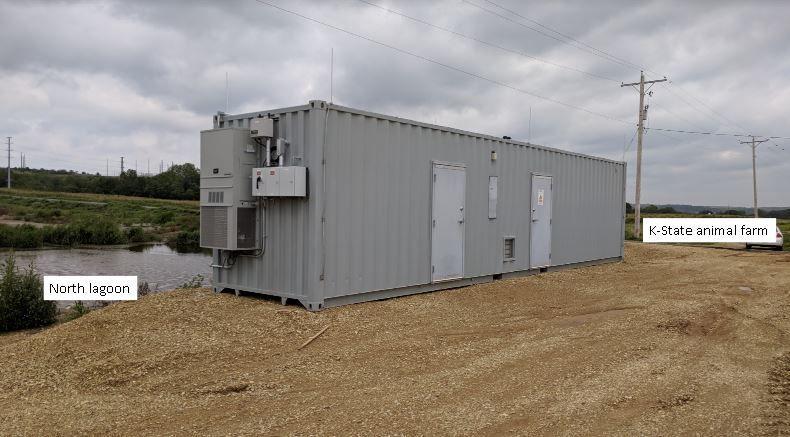 A $2 million grant from the U.S. Department of Energy will help Kansas State University researchers create new resources from sewage.
The Department of Energy's Office of Energy Efficiency and Renewable Energy announced awards totaling $27.5 million for water infrastructure projects in 13 states, including Kansas. All the projects awarded by the Department of Energy focus on developing treatment techniques to produce renewable power, extract any chemicals and fertilizers from wastewater, and reuse water locally, while minimizing energy consumption and waste.
The project at K-State receiving federal funding involves using what's called an Integrated Anaerobic Membrane Bioreactor (AnMBR). Associate professor of civil engineering Prathap Parameswaran said this technology enables carbon material in wastewater to be converted into something useful.
"It's a powerful precursor for making other useful chemicals, and also releases nutrients in a form that can be captured easily," Parameswaran said. "Our proposed technique for this project is to really combine that anaerobic treatment technology, filtration technology, to convert all this waste… and make clean water."
The total cost for the K-State project, according to the Department of Energy, is about $2.5 million distributed over three years, with $499,981 of that amount being shared among K-State and its partnering organizations, which include the University of Kansas, Lawrence Berkeley National Labs, the University of Pittsburgh, and engineering firm CDM Smith.
That money is intended for evaluating opportunities to generate power from wastewater, and also addressing environmental and social inequities caused by a lack of access to clean water in rural communities.
Parameswaran said part of the expense stems from requirements that his team demonstrate these new technological and scientific concepts at scale.
"Some of the concepts proposed have not been evaluated at a full-scale plan yet," Parameswaran said. "You need to invest in the correct level of resources, infrastructure, and involve multiple teams that are experts on each topic."
The main concept of this project involves Parameswaran's team funneling water from lagoons at the KSU Swine Learning and Research Center on the north end of university property in the Animal Sciences compound, into the anaerobic system. Parameswaran said he and other researchers will use a modified approach, enabling an electrochemical field within the water intake system to help separate and collect organic acids from the water.
Those organic acids, along with sludge waste produced by the treatment process, will be digested by a fermenting machine that is operated by University of Kansas researchers and later used in a variety of applications. Parameswaran said once the sludge and organic matter is separated, the water that is left is free of all carbon but still rich in nitrogen and phosphorous.
"We can capture those elements separately, and our hope is they will be beneficial for fertilizers," Parameswaran said. "Finally, the water produced (from the anaerobic system) will be treated in a wetland and discharged or reused on the K-State Agronomy Farm."
Parameswaran said a low-lying area of land near the swine lagoons will act as a final buffer or polisher before the water is discharged for final use. He said this process would also be good for animal feeding operations that face regulations on water use, as well as generate other products that can be used locally.
"Wastewater needs to meet all these criteria and has all kinds of components which have useful value," Parameswaran said.
According to the Department of Energy, more efficient equipment, processes, and operations, along with retrofits to current water treatment facilities, can yield energy savings as high as 50% for the user.
Wastewater is also a potential source of thermal, chemical, and hydraulic energy, and it could be possible to convert wastewater into renewable power as well as reusable water.
The prototype of the anaerobic system developed by Parameswaran and his team is stored in a cargo container near the lagoons at the Swine Learning and Research Center.
"Our unit has a treatment capacity of 1,000 gallons," Parameswaran said. "To provide an example for scale, the Manhattan water treatment facility's capacity is somewhere between 3 million and 7 million gallons."
The anaerobic unit will be fully operational by the end of April, and Parameswaran said the first phase of his team's research will begin this summer. After spending two years at a smaller scale, he said his researchers have the equipment to size up their operation.
The project will help researchers learn more about how food and water systems are connected globally.
"As society grows there will be waste, and this puts us in a position to be good leaders into the next century," Parameswaran said. "For that we really need revolutionized and forward-thinking ideas, and that's where technologies like this come into place."
Parameswaran said he believes this research will not only revolutionize the loop of global food systems, but also address public health concerns.
"If you don't treat certain waters or wastewaters, it can lead to the spread of diseases and potentially the creation of another pandemic," Parameswaran said. "This technology, this research, it can address all of that."