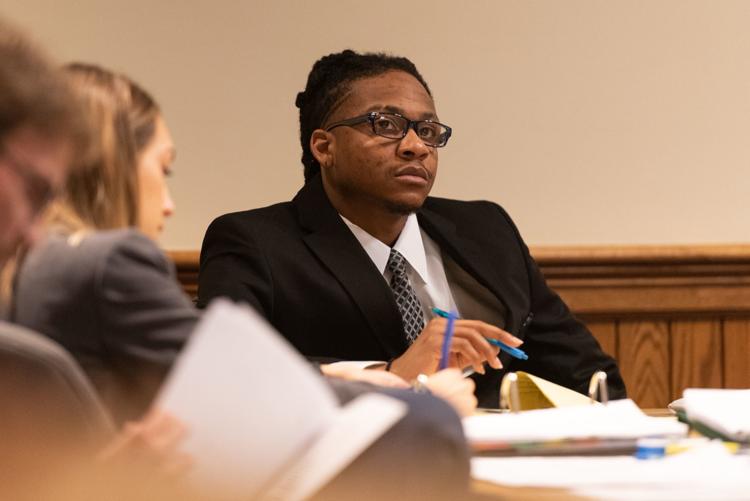 The external and internal damage observed during the autopsy of a 12-week-old boy was caused by at least three separate blunt-force impacts, a forensic pathologist said Friday at the Riley County Courthouse.
Ransom Ellis, a forensic pathologist at Frontier Forensics Midwest, described to the jury the injuries he noted on the infant, Michael Calvert Jr., during the trial of D'Khari Lyons.
Lyons, who is charged with first-degree murder and abuse of a child, is accused of killing Michael, his former girlfriend's infant son, who was left in Lyons' care for a short while in November 2018.
Michael's injuries included bleeding around the brain and spinal cord, damage to the spinal cord itself, a skull fracture that stretched across two cranial bones, bleeding in the eyes, and bruising and swelling across his body, neck and face. An autopsy listed the death as a homicide, stemming from blunt force or abusive head trauma.
On the scalp itself, Ellis said there were three distinct areas of separate trauma and bleeding, caused by non-penetrating, blunt-force trauma. Ellis said this sort of damage could not be explained by a simple fall.
"I cannot think of a single event that would cause trauma on all sides of the head," he said.
Ellis also said a "whiplash-like energy" would be needed to cause the distinct damage seen on Michael's upper spinal cord and supporting tissue, as well as the hemorrhaging around his eyes.
Terra Frazier, a child abuse pediatrician with Children's Mercy Hospital in Kansas City, examined Michael after he'd been brought to the hospital.
Frazier said Thursday that his injuries were so severe when he arrived that even surgery was not a helpful option. Ultimately, she said, his brain had swelled so much it could no longer function normally.
"There was no one surgery (doctors) could do that would help make anything better," she said.
Frazier said she looked at Michael's medical records, reports and spoke to his parents and other officials in the case. She said his mother, Jessica Hudson, told her that his behavior leading up to the incident had been "normal" — he had been making eye contact, eating and cooing like usual.
Frazier said based on her exams and studies, she would not expect Michael to behave normally after sustaining these injuries, and he would be immediately symptomatic. Thus, she said, the injuries would have happened after the time period people reported he'd been acting "normal."
Upon cross-examination, Frazier said a diagnosis of blunt force or abusive head trauma does not indicate whether the damage is done intentionally, but she was not given a history of accidental injuries.
Defense attorney Cole Hawver pulled studies of real examples of infants experiencing abusive head trauma. In most of the 29 cases Hawver cited, the incidents were caused by parents, and the study said people who confessed to be the perpetrators admitted experiencing fatigue, stress and frustration.
Frazier said in prior statements, Hudson had told her about having a history of depression and anxiety. Hudson had also noted Michael had a bruise on his face a few days before the incident but other witnesses Thursday, including Hudson's mother and a pediatrician, said they did not notice any unusual marks on Michael the day before.
The trial was still going on at press time and will reconvene Monday.