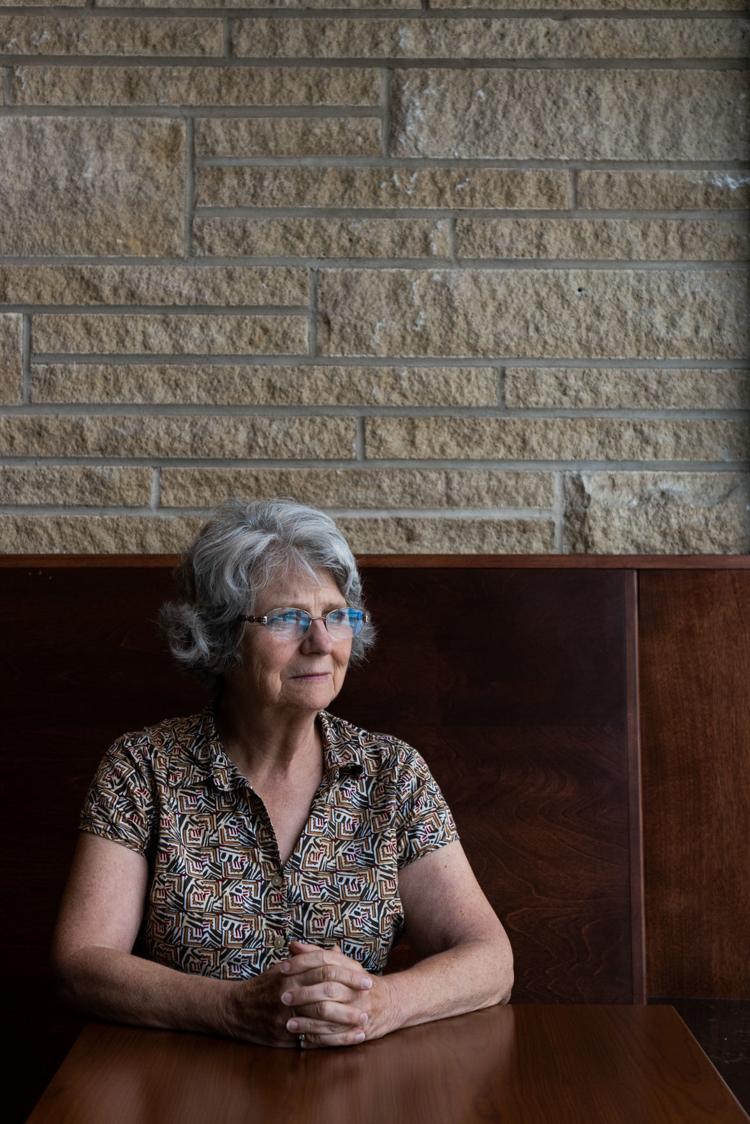 Sandy Nelson said she loves the faith that Rev. Jonalu Johnstone brings to the Little Apple.
"She has faith in me and my work, which is uplifting," said Nelson, who works with Johnstone at Unitarian Universalist Fellowship of Manhattan.
Johnstone, 63, a transplant from Oklahoma City, has been the developmental minister at UUFM since 2015.
"One of the things that I love about ministry is that every day looks different. You know you might be sitting in the hospital with somebody one day, and the next day you might be doing a rally about immigration," Johnstone said. "The next day you might be preaching, the next day you might be leading an adult religion education class around Unitarian Universalist's values."
Johnstone has more than 25 years of ministerial experience. But prior to becoming a minister and reverend, Johnstone was an educator.
"I was a teacher before, and then I was working in mental health centers actually," Johnstone said. "And I knew I needed to do something different."
She originally was involved with a lay-led Unitarian Universalist fellowship in Cumberland, Maryland. "Lay-led" means there's no professional minister.
"And because it was a lay-led congregation, different people had the opportunity to preach," she said. "And people there said to me, 'You could be a minister.' And I feel like those folks called me to ministry and set a path for me."
Johnstone attended Harvard Divinity School and became ordained in 1993. In her current position, she preaches often but appreciates the variety of work her job allows her.
She is also an activist for the LGBTQ community. Johnstone grew up in Virginia in the 1950s and 1960s, which lead her to activism in fighting for racial equality.
"So that was a really formative influence for me," she said. "There's just so many ways that we look at, you know, kind of the world as it is, and the world as it should be and find ways that we're just not where we want to be. And I think that it's important to be addressing those, whether it's in small ways, like we need to do a better job with sidewalks, to in big ways, like we need to end the systemic racism that exists in our culture."
Susanne Glymour, who works with Johnstone at Inter Belief MHK, said Johnstone has enthusiasm and passion for bringing the community of Manhattan together.
"She really, really cares a great deal about having the community be a place that really is safe and feels safe for everyone who's sharing this space," Glymour said.
Inter Belief MHK is an ad-hoc group of local community members from different faiths and even those who do not have a specific faith.
Additionally, Glymour said the reverend listens to the thoughts and voices from all people.
"She really, I believe, understands the importance of dialogue and conversation, especially with people with whom she might personally disagree, or who really come from a different perspective," Glymour said.
Johnstone was involved in the anti-discrimination ordinance established in Manhattan. As a reverend and minister, Johnstone teaches "about loving alike, though thinking differently."
In their spare time, Johnstone and her partner Jane Powell — who have been together for about 30 years — enjoy hiking and exploring the Konza Prairie. Johnstone also loves to sing and is a member of the Timeless A Cappella, a women's singing ensemble in Manhattan.
Johnstone has lived in various places across the country but finds she is able to deepen relationships further here in Manhattan.
"There were things I really liked about being in Oklahoma City, but it was hard to really make connections," she said.