Tuttle Creek Lake decrease provides some relief, but officials say 'stay vigilant'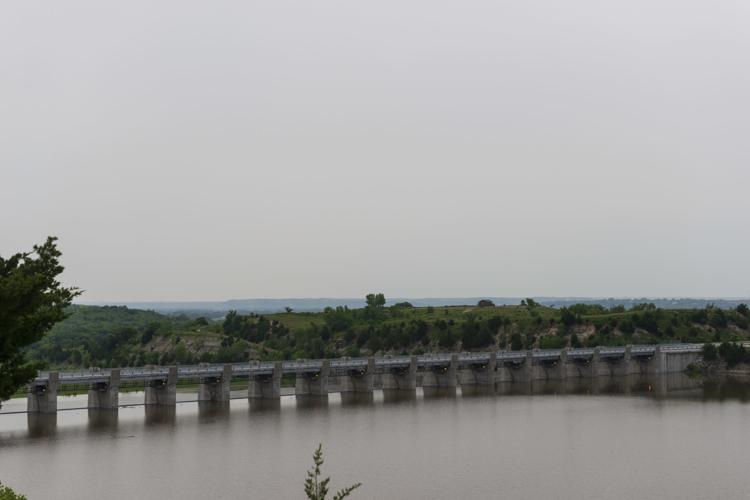 Tuttle Creek Lake is finally starting to go down, and that's brought some relief to emergency workers and residents under an evacuation advisory after a tense week brought the lake to the brink of its capacity.
But while the decreasing lake elevation is a cause for relief, Pat Collins, Riley County emergency management director, said officials aren't letting their guard down, and neither should citizens.
"We're not out of the emergency yet," Collins said. "The lake is starting to decline, the weather is starting to look good and the streams are starting to decline a bit, but we're still at the point where one big rain in the right part of the basin could cause an emergency."
The lake level was 1,135.48 feet above sea level as of 6 p.m. Saturday, or a little more than half a foot underneath the top of the emergency spillway gates.
Inflows into the lake were finally lower than the outflows, with the reported inflow at 26,200 cubic feet per second and outflow at 30,000 cfs. After a Thursday forecast predicted the lake would go over its capacity through the weekend, the U.S. Army Corps of Engineers bumped up the lake's discharge to 30,000 cfs Friday.
That means the lake is finally beginning to drain, albeit slowly. Under continued releases of 30,000 cfs, the Corps expects the lake to inch down to below 1,135 feet by Tuesday.
"I think that sometime in the next couple of days, we could probably take the evacuation advisory off, but I don't know exactly when that will be," Collins said. "It just kind of depends on how fast the lake falls and what happens to the stream flows coming in."
The current situation means that emergency workers may finally get some rest, even if it's just a day or a part of one. The Emergency Operations Center is shifting down from 24 hours to operating between 7:30 a.m. and 7:30 p.m. beginning Sunday. However, officials will continue to monitor water gauges and lake information, and Collins said he did not expect any significant changes in emergency operations.
Collins said citizens should continue their day-to-day activities but remain vigilant.
"I wouldn't move anything back in, if you've moved stuff out of the area, until we see a pretty good decline," Collins said.
With the lake level still high, officials continued their emergency response. Regionally, Riley, Geary, Pottawatomie and Wabaunsee counties were added to the federal emergency declaration in Kansas on Saturday.
The four join 11 other Kansas counties as additions to the original declaration that President Donald Trump signed Tuesday, which provided federal aid for 18 other counties.
The declaration brings federal resources "to save lives and to protect property and public health and safety, or to lessen or avert the threat of a catastrophe through direct federal assistance for emergency protective measures."
Locally, the Riley County Health Department was at Vineyard Church in the Northview community giving out free tetanus, diptheria and pertussis (Tdap) vaccines to residents who could be affected by flood waters, as well as emergency personnel and clean-up crews. Flood waters increase the risk for tetanus, which is found in soil, dust and manure.
Originally planned in conjunction with a Northview community Manhattan Day block party to offer HPV and meningitis shots, the department moved the location to the church after the block party was cancelled earlier in the week due to predicted rain and high water levels.
Jennifer Green, the health department's director, said 40 people received vaccines Saturday. Patricia Parker, a Hunter's Island resident, was one of the first to receive a Tdap shot.
"The last time I had a booster was in '93 for flood waters then," Parker said.
While the home her father and uncle built didn't flood then, she said she wasn't sure it wouldn't now.
"There's always a chance for flood water, and who knows what's in that water," Parker said.