OUR NEIGHBORS | Award-winning bartender says family at heart of work, personal life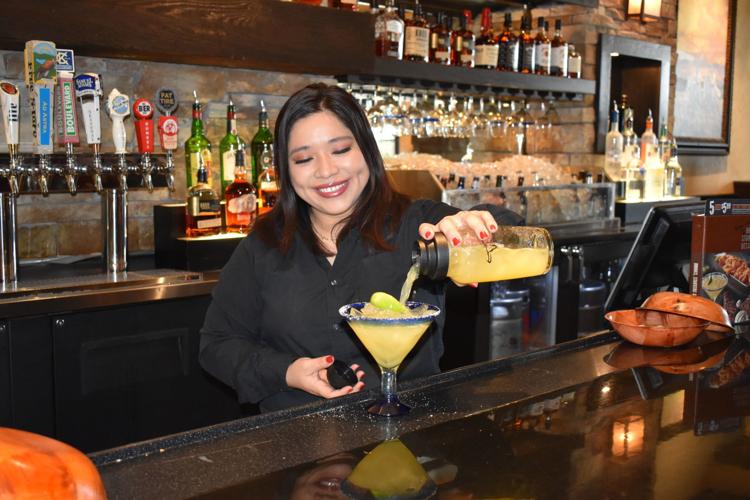 Beatriz Lopez has many titles, including mother of four, and now she can add award-winning bartender to that list.
Lopez has worked as a bartender at Longhorn Steakhouse in Manhattan for three years and bartended at the restaurant for two.
Lopez recently came out on top in the Bar Stars Series, a regional competition Longhorn Steakhouse hosted across the country to test their employees' skill and knowledge behind the bar. Lopez moved on to the regional contest, which took place in Olathe, after she scored well in a test at the Manhattan location. She said she had modest expectations for the contest at first. She was one of 58 employees out of more than 515 Longhorn locations in the country to take home the title.
"Before the test I was super nervous," she said. "I thought I couldn't do this, but when I'm actually behind the bar, I can get it done easy, fast, right. It went really well and I was confident back there."
Lopez was tested on things like pouring technique, drink knowledge, ingredient compatibility and more. As the top finishers were announced, Lopez said she never expected to take first place.
"I went in there with the mindset of 'Just do your best,'" Lopez said. "Then they said my name and I was like what? It was nuts, like are you serious? I got really teary-eyed and super emotional because I didn't think I was going to win."
Lopez said she walked away with a trophy, gift basket and cash reward from the competition.
"I like how fast paced (bartending) is," Lopez said.
"There are days where you're just kind of everywhere with tables and guests at the bar making drinks. I also like when someone orders something I don't usually make and I get to look it up and do something new with it. I like trying new things behind the bar."
Katrina Marshall, managing partner at the Manhattan Longhorn Steakhouse, said Lopez has been a valuable asset to the staff at the restaurant since she started working there.
"Beatriz has been a phenomenal team player for us," Marshall said. "She was last quarter's team member of the quarter. She's a team player in everything she does, but the loyalty she brings to this restaurant and the commitment that she makes to making every guest a loyal guest in our restaurant is top notch."
Lopez said she hopes her children, 8-year-old Ava, 4-year-old Bria and 9-month-old twins Amaya and Dominic, can take lessons from her work ethic in the future.
"I want them to know that you can achieve anything you set your mind to." Lopez said. "It might be scary, and you might think you're going to fail, but it's OK if you fail. At least you tried. I want them to be able to be strong and go for it."
Though her own family is large, Lopez said she has found family within her team at Longhorn as well. She and her husband, Jason, moved from Texas to Manhattan about six or seven years ago after Jason was stationed at Fort Riley. Lopez said they fell in love with the area and decided to stay after his service ended.
"Family is so important to me," Lopez said. "All our family is in Texas — my brother, my sisters, nieces, nephews — so we don't have anyone here.
"When I started working here, I got really close with a lot of my coworkers and there's just so much support. From the managing staff, they're always there for us, like with the twins and the girls. My coworkers rally behind us every time.
"With the competition, they were like, 'Good luck, you're going to do great.' And they always offer to take care of the kids. It's just a really great place to be."