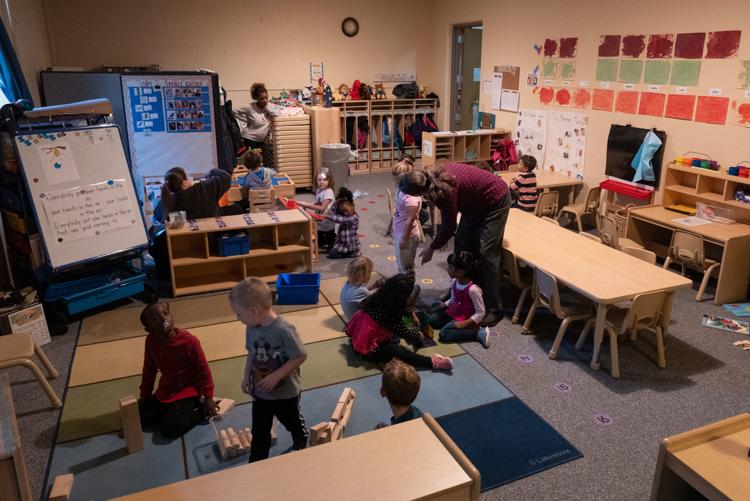 In the Maple Tree classroom in the College Hill Preschool, teacher Leigh Bailey only knows her preschool students as "seedlings."
In fact, all of the center's children are seedlings, and all of the classrooms are named after trees. At Eugene Field, the district's other preschool facility, there's a similar theme: kids are early birds and their classrooms are named after, well, birds.
But those are the only distinctions between preschool classrooms this school year following a yearslong process to combine and mix all of the district's early learning programs. As a result, at-risk preschoolers, special education preschoolers, Head Start preschoolers and more all comingle in classrooms without labels.
Unlike regular K-12 education, the state of Kansas neither mandates nor publicly funds preschool education, so most of the state's public school preschool programs run from a variety of other local, state and federal sources, particularly grants.
Historically, that's led to "siloed classrooms" where school districts segregate the preschool children into classrooms based on funding sources, since each program has different requirements on how the classrooms are run and how the funding is spent.
Several other school districts across the state also have transitioned to the integrated, community learning model, but Manhattan-Ogden is likely the largest to make such a change, said Amanda Petersen, director of the state Department of Education's Early Childhood Department.
One advantage that the Manhattan-Ogden school district had in making the change was the fact that it already operated all of the local public preschool options under one roof, Petersen said.
Elisabeth Nelson, director of early learning programs for the school district, said a task force charged with planning the change operated under a slogan: "Children aren't soup cans, so why put labels on them?"
"I don't think anybody thought about the harmful effects that might have on children, or the labels that we were inadvertently putting on kids," Nelson said. "I think the thought was just that we'd open classrooms based on funding sources. We did a lot of good with that, and we were able to get a lot of funding that not all communities have and start that process of providing good early learning services, but in the process, we segregated kids based on certain factors."
That led to inadvertent labels, she said.
"You don't think a lot about that as an educator and you're doing that, but I think you realize it when the community starts to say, 'Oh, that's the at-risk program,' or 'Oh, that's the special education classroom,'" Nelson said. "I think when the external community can start to label how it works, it's definitely alarming and concerning."
Another side effect was that parents would shop around for programs and pit programs against each other, even though it was all within the district.
Families would sign up for several waitlists, and they would use spots in some programs while spots at other programs with perceived perks like lunch service opened up, Nelson said.
Several studies, including a 2015 study by the Great Lakes Center for Education Research and Practice, have found that when elementary school students abruptly change schools (referred to as transiency or student mobility), the sudden change in school environment and classmate and teacher relationships often leads to severe impacts on test scores and high school graduation rates.
"When we look at research and what is harmful for kids, one of the big things that stands out is transient kids," Nelson said. "Moving and transitioning during the school year is really harmful for kids, and we were in a way promoting that in our families."
Making changes
With that in mind, the school district formed a task force to develop a vision for the early learning program's future and goals. Nelson said just that step took some time, as even though the program's employees and adminstrators worked toward the same goal of educating children, there were differences in philosophies and visions that the task force needed to align before moving in any direction.
From that task force came the idea to merge all of the various preschool programs' funding and in turn merge the classrooms themselves.
Easier said than done.
For the move to work, the district would have to determine each student's eligibility for the various funding sources and calculate funding for things like transportation, food service and teacher salaries based on the percentages of children enrolled in each programs. In any case, Nelson said this part of the process helped streamline things for parents, even if it caused some additional complexity on the district's part.
Additionally, some programs had more stringent requirements, like academic benchmarks on sound and number identification, and some programs provided for things like transportation and food service while others did not. The Head Start grant also requires local programs to run for the full school day, or at least six hours, in order to receive the federal funding.
But the district realized that if it chose the highest standard for each benchmark, it would meet the benchmark for every program.
"We knew that if we always went the highest quality standards, we'd end up with a highest quality program by the end of the process."
Although the physical move to integrated classrooms happened this year, the transition to common academic goals and curriculums has been in the process for the past several years. With a baseline of the 2017-18 school year, the early learning program increased the percentage of 4-year-old students who showed strong progress in sound identification up from 29% to 49% in the 2018-19 school year, falling just short of a goal of 50%. Meanwhile, the percentage of students who demonstrated strong progress in number naming increased from 41% to 53%, passing that metric's goal of 50%.
"I think we ran a pretty good program to begin with, but I think as you look at it three years later after we've made curriculum changes and in how we train our staff, you see progress," Nelson said. "That's because we've picked the highest quality standards, and we're helping our children be more successful than they ever have."
The higher quality preschool education should correlate to better student outcomes and success as the children enter the K-12 system, superintendent Marvin Wade said.
"With all of these indicators, we ought to be able to expect, and really demand, that as these students come in with these skill sets, that they will be better and continue to get better down the road, in kindergarten and all the way through the system," Wade said. "We're going to continue to do the best that we can but we're happy and I think the board is happy with some of these results we've seen."
'Renewed sense
of enthusiasm'
Peterson said she and a team of state officials had visited Manhattan a few months ago, and they were impressed with the initial results of the transition. She said other school districts could look at Manhattan-Ogden as a model in planning their own transitions.
As with any change, Nelson said there was some initial reluctance from teachers, but in bringing the teachers together and making sure there were consistent standards, expectations and policies, most teachers now buy into the district's shared vision. The program keeps tabs of student learning by writing students' name on sticky notes and tracking their progress as they move from at-risk (red) to moderate progress (yellow) to strong progress (green). That's helped humanize the data for teachers and has built buy-in.
"I think a lot of that came real when they could see the real faces, instead of graphs and percentages. They could see those names and move them across the board to the green area," Nelson said. "That resonates with teachers, and they can see their impact on the kids. It's created a renewed sense of enthusiasm."
Teachers also have adapted by creating a uniform handbook to ensure consistent policies and expectations from teachers.
The district also has to make sure that monthly attendance doesn't drop below 80%, so teachers now follow more intense attendance reporting procedures.
Food and participation in physical activities can't be used as rewards or punishments, either. Nelson said that although those rules might seem like red tape, the educators have to remember that there are reasons for the rules, and rules against food parties or using physical education as punishment might stem from issues like childhood obesity.
Even items like trips to the bathroom need consistent rules and expectations, Nelson explained.
Under the early learning community model, teachers are not told about a child's circumstances or funding source, with the intent of reducing implicit biases. Those biases lead to subtle, unintentional judgements people may not even realize they make, and Nelson said that's especially concerning in education.
"If a kid is from a low-income family, we might think they come from a hard life, and without knowing it, we might feel sorry for them and not push them as hard as we could," Nelson said. "I don't think any of it is intentional, but it's best when we see children and families as children and families."
Over the next couple of years, the preschool facilities will see a combined $15.7 million in bond improvements that will add classrooms and make other renovations. The College Hill facility, which is currently operating out of Trinity Presbyterian Church while construction is underway, is scheduled to open in fall 2020, while the Eugene Field construction starts in June and wraps up in fall 2021.
Nelson said the program's biggest challenge going forward is sustainability, especially in enacting the new learning model. She said sustainability also means keeping the program eligible for grants and meeting yearly requirements.
"People get tired and it's easy to want to go back to what's comfortable and familiar, but I think it's important that we keep our eyes focused forward on what we set out to achieve," Nelson said.