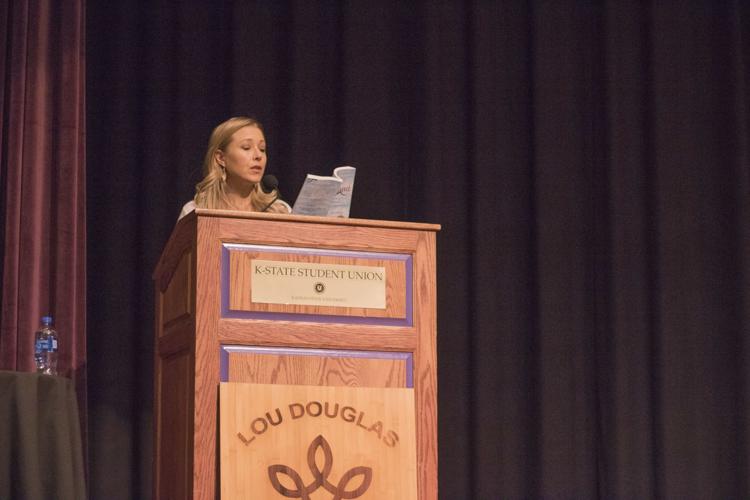 To be from Kansas, especially its rural areas, is to be misrepresented and misunderstood at the national level, Sarah Smarsh said, but she's working to change that.
Smarsh, a journalist who has reported on socioeconomic class for outlets such as The New York Times, The Guardian and The New Yorker, spoke about the rural and socioeconomic divide at a Lou Douglas Lecture on Tuesday evening at K-State's Forum Hall.
A fifth-generation Kansas farm kid, Smarsh grew up in Kingman County, which she said shaped her entire life and future experiences. In 2018, she published the book "Heartland: A Memoir of Working Hard and Being Broke in the Richest Country on Earth," which reflects not only on the struggles she saw but on the values her family instilled in her in rural Kansas.
Smarsh tracked down her family history and realized she was the first woman on her mother's side to escape teenage pregnancy. On her father's side, she said she inherited a legacy of agriculture work and all of the financial struggle that comes with it.
Her family saw the effects of alcoholism, substance abuse and violence (although not in her family) that often plague rural communities.
"There's something that drove me to write about this place and about that life and culture and economic station that I was encouraged to get out of and leave," Smarsh said. "Something was driving me to turn the spotlight on that place and examine, yes, its troubles, but also its great and off-the-public-road beauties."
Smarsh said that she became a journalist when she graduated from the University of Kansas' journalism program in the early 2000s. She said that local newspapers and media outlets have struggled to adapt to the digital era.
Most people now get the bulk of their news from national media sources, she said, and that makes it more difficult to tell the story of rural America.
"That creates a perversion of the truth in some ways, because it's being filtered through folks who couldn't possibly understand rural Kansas because they live in New York City," Smarsh said. "And it's through no fault of theirs that they sometimes get the story wrong or sometimes the headlines are even condescending. I don't know about you, but I don't care for the term 'flyover country.' I don't like it when our entire region is painted as if everyone votes the same and thinks the same."
Smarsh said that as a first-generation college student, she understood the hard work and challenges those students face in adapting to a culture that can seem foreign to them. Without college-educated parents or mentors to walk them through that culture, first-generation students often have to work harder to reach the same level of success as their peers, she said.
But in reflecting on that reality, Smarsh said she realized that her status as a first-generation student didn't mean that her parents were not also capable, smart people. Rather, their place in society kept them from being able to make choices about their careers and futures, and while agriculture is a beautiful thing, she said not all farmers do what they do by choice.
"I started to figure out that my mom was brilliant, and my dad was a natural poet," Smarsh said. "I was surrounded by all of these people who have all of these gifts and talents that are overlooked because they have no choice as to what sort of job they could hold. It's the way our economy works."
Class, she said, wasn't really a concept that was talked about in the mainstream during her college years, so she struggled to find a word to describe her experiences, even as she felt a gulf between where she came from, where she was and where she was going.
Although she was a straight-A student, she said she didn't really understand what graduate school was until she came across a poster for the McNair Scholars Program, a program that helps first-generation, underrepresented and low-income students apply to and navigate graduate school.
"I saw the program said it was for first-generation and low-income students, and I thought, 'Hot damn, that's what I am,'" Smarsh said.
When she went to Columbia University in New York City, Smarsh found her perception of wealth and class challenged. Growing up, her idea of "rich" was the local postmaster, and when she lived in the Big Apple, she realized how much bigger the world really was.
She completed her degree but decided to move back to Kansas, where she still lives. She said it was the most controversial decision she made, and her friends called her nuts at the time, but she also said it was one of the best ones she's made.
Smarsh now regularly writes columns and speaks on socioeconomic class at the national level, and she hosts a podcast called The Homecomers, in which she interviews people who return to their rural home states to advocate for them professionally.
After having lived in two different worlds, Smarsh now claims to speak two versions of English — country and fancy — but she hopes to use her experiences to create connections and increase understanding of rural people.
"For me, I have come to understand that those two things are always going to feel like separate worlds, and the fact that I inhabit both, I no longer perceive it as a challenging burden but rather as a privilege, because it means we need more bridges built in a society that is tearing at the seams. If I can ever be that bridge, than that's a privilege to be of service that way."
Reading from her book, Smarsh said for all of the struggles her family went through, she is thankful for the experiences only a rural Kansas upbringing could give her — a background that people pay for through agritourism experiences.
"They go to bars that use Mason jars for glasses. They even throw expensive weddings in barns," Smarsh said. "Somehow, I got the real thing, increasingly rare in an urbanizing world. All sorts of poverties were passed on to me, but some late night, a tractor pulled me well-fed by what we grew under a clear sky full of stars. That laughter, that freedom is the fortune I inherited."