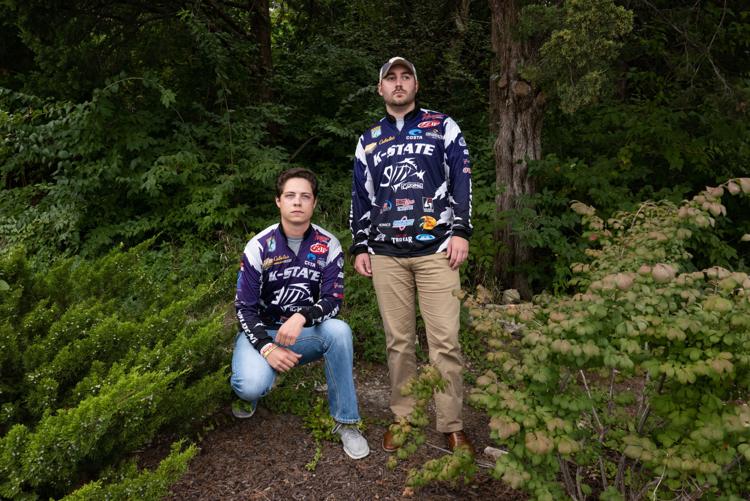 Drew Easterday and Will Andrie have formed a bond and a sense of camaraderie through fishing.
Along with their teammates, they spend many of their Saturdays at a lake, enjoying one another's company, all while participating in one of their favorite activities.
The roommates are members of the Kansas State University fishing team, a nationally recognized, 40-plus member club team.
Easterday, a senior from Overland Park, and Andrie, a junior from Waco, Texas, are both studying marketing at K-State while serving as treasurer and vice president of the fishing team, respectively.
"Camaraderie is great, but also you get the opportunity to take an officer position in a club affiliated with the university so that looks great of course on your resume," Andrie said.
After deciding to go to K-State, Easterday joined the fishing program because he wanted to get back into the sport. He said he enjoyed participating in tournaments during his middle school years.
He met a friend, Cole Miller, with whom he had fished in middle school. Miller eventually became his team partner and is roommates with Easterday and Andrie.
Andrie said he wanted to attend K-State because of its renowned fishing program, where he has flourished.
Andrie and Zach Vielhauer won the 2018 Bassmaster Classic College Bracket in South Carolina.
In addition, Andrie and Gaige Blanton placed ninth out of 200 teams at the Bassmaster College National Championship this year. They competed at Tennessee's Lake Chickamuaga. Andrie and his partner also finished seventh out of 250 teams at Bull Shoals in Arkansas.
To qualify to fish at national events in the spring, pairs compete against each other during fall tournaments. The top three teams from K-State get to fish at national tournaments.
K-State competes against teams such as Alabama, Michigan and Clemson.
Easterday participated in a few national tournaments as well.
The team is in the swing of the fall season. They had a tournament at Wilson Lake in central Kansas this past weekend.
Members practice in other lakes across the state, too, including Milford and Perry lakes.
They arrive at the lake around 7 a.m. and fish for bass. The team fishes on eight or nine boats until 3 p.m.
"We just have the craziest, like fun times," Easterday said. "Like whenever we go to these tournaments, it's just a fun time, like lots of laughs, just hanging around, talking fishing and talking outdoors."
At the end of the day, the team weighs the fish. The five biggest fish from each team are counted to determine the winning teams, Andrie said.
"They mark your weight, and of course, the heaviest weight wins," Andrie said.
Before joining the collegiate team, both fishermen learned the craft from their fathers, beginning when they were children.
"My dad just took me one day," Easterday said. "Was super young. From the minute I started, I loved it. I don't know. It's just something about it; it's like can't even explain when you go out fishing ... (I) just love it."
As a kid, seeing his first bobber sink into the water lit a fire for Andrie.
"It was just excitement, and until this day, that fire has still not gone out," he said. "It's just, you want to learn more, how to catch more fish."
Easterday also works for K-State Athletics in the licensing department. But, other than that, Easterday said he sleeps, breathes and eats fishing.
He said he likes to talk about and watch videos about fishing.
Andrie and Easterday are also football fanatics. They love to tailgate and catch the Wildcats on Saturdays when they aren't fishing.
They also enjoy watching NFL football on Sundays; Easterday specifically cheers on the Chiefs, while Andrie is a Cowboys fan since his grandpa played for them.
In the future, both Easterday and Andrie want to stay active in fishing on some level; Andrie wants to fish professionally after college.
"I really wanted to have a career possibly to do it professionally," he said. "And in this day and age, college fishing now is the gateway to the pros."
Easterday hopes to work with a marketing firm locally, but he said he'll also continue to fish.