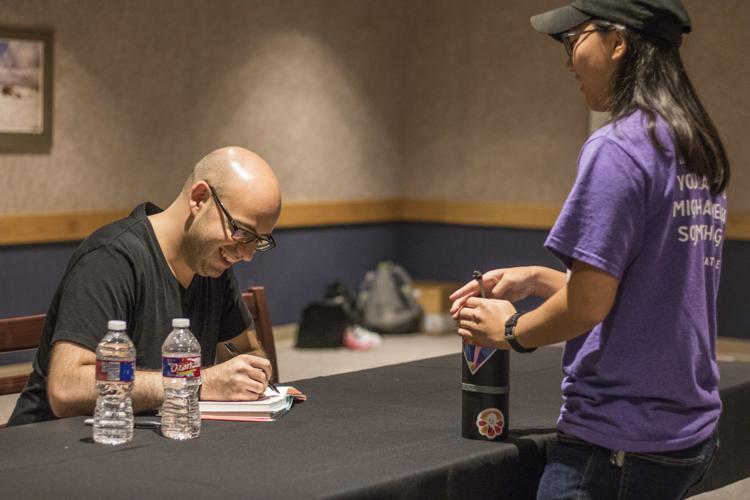 It was a long, winding journey to becoming an author, but when Adib Khorram started to rely on his Iranian-American background, he knew he had a hit book.
Khorram is the author of "Darius the Great is Not Okay," this year's common book for all K-State freshmen. He spoke Thursday evening in front of a crowd of about 1,000 people — primarily college freshmen but also high school students, faculty and community members.
His book tells the story of Darius Kellner, a bullied, tea-loving Iranian-American teenager in Portland, Oregon, who speaks better Klingon than Farsi. When his grandfather in Iran is diagnosed with a terminal tumor, Darius travels with his family to Iran for the first time.
Darius's story explores themes of depression and cultural intersectionality, or the way different aspects of a person's identity, such as race, gender and sexuality, affect a person's cultural interactions. Khorram said in writing the book, he relied on his own experiences with depression and as an Iranian-American to shape Darius's character.
Khorram said like most other teenagers, his middle and high school years were difficult, and he battled depressive episodes throughout his time in school.
"I spent pretty much all of my high school career doing my best to fit in, and something weird happened when I went to college, and that's that I spent most of my time trying to stand out instead," Khorram said. "It was the first time that I remember feeling like I didn't have to be part of the crowd — that I could just be myself."
In college, Khorram said he found an Iranian restaurant that he took his friends to.
"It was, I think, the first time in my life that anyone ever thought it was cool to be Iranian," Khorram said. "People loved the food and they liked the background music. … It was the first time I felt proud of my heritage."
Khorram also realized he was gay in college, which he called an "eye-opening experience" that helped him become more comfortable with himself. He switched over to film school but ended up working as an electrician at a theater, then a graphic designer at a production company. In between calls and jobs, Khorram said he had a lot of free time, so he started writing.
At first, it was a lot of fan fiction, then a screenplay, but he found that to be too challenging, so he started writing novels.
"I wrote a lot of really, really bad — so bad — first books," Khorram said. "One of my first completed novels was this weird adult, military sci-fi, and it was complete garbage. And my first young adult novel was actually like a mash-up of 'The Fault in Our Stars' and 'The Hunger Games.'
"It was either way ahead or way behind its time," Khorram joked.
He struggled to stand out as an author initially, but Khorram said he realized he could stand out by writing about his experiences as an Iranian American, which no one else had really done.
"I ended up writing this book that was incredibly personal, and I thought I was the only one who'd ever want to read it," Khorram said. "It got published, and it was surprisingly well-received, and then (K-State) picked it up as the common read, and I've gotten to spend the day talking to students and staff. I've been amazed and moved in the way people have come to see the book reflect their own experiences."
Tara Coleman, associate professor and chair of the K-State Book Network, which picks each year's common read for freshmen, said Khorram's book was a great fit for the selection committee's wellness and well-being theme.
"It fit a lot of these themes that we were looking for," Coleman said. "We thought it'd be a really accessible way for our students to talk about things that can be kind of challenging, such as depression, struggling with parental relationships, establishing an identity, bullying, things like that."
A common book helps freshmen as they transition to college by giving them a common academic experience they can talk about, Coleman said. The 65-person K-State Book Network committee works a year out to pick three finalist books. She said the committee will likely announce those finalists in October, and they welcome community input on the books.
Khorram said only time will tell if he writes a sequel to "Darius the Great is Not Okay." However, he has a picture book on the Iranian New Year publishing in the spring, and another book he said he hopes to officially announce soon.