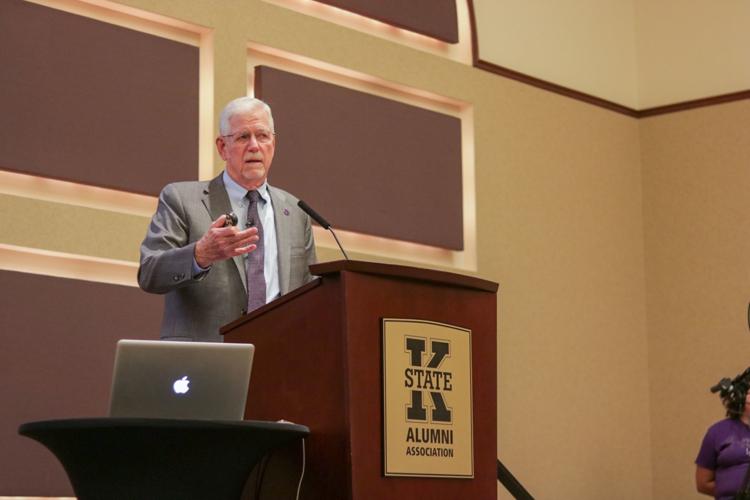 In his fourth State of the University address, K-State president Richard Myers related the university's progress in the context of K-State's goal to become a top 50 public research university by 2025.
At the K-State Alumni Center Friday afternoon, Myers said that since his predecessor developed the K-State 2025 plan, the university has met several challenges, including declining enrollment and state funding in the past half decade. Myers and provost Charles Taber have hinted that this year will mark a sixth consecutive fall semester of decline in the 20th day student headcount. A complete enrollment report is expected this week once the Kansas Board of Regents releases statewide enrollment data.
"As we reflect on our progress, there's been a lot of things that make us better, even as challenges and circumstances energize in new ways," Myers said. "I'm really proud of the way we've overcome and tried to accommodate some of those challenges."
Myers focused on areas of development identified in the K-State 2025 plan, including research, scholarly and creative activities and discovery; undergraduate educational experience; graduate scholarly experience; engagement, extension, outreach and service; faculty and staff; facilities and infrastructure; and athletics.
Research,
scholarly and
creative activities
Myers said the university has made substantial progress in increasing cutting-edge research at the university, but much work is left to become a top 50 public research institute in the next five years.
He pointed out that the university has continued to break its own records in research. The university's fiscal year runs between July 1 and June 30, and in the 2018 fiscal year, the university spent $218.3 million on research — a record amount that was up 35.8% from $160.7 million in 2011.
The university also saw a record $174 million in research awards spread across 1,553 awards in the 2019 fiscal year.
"That's no small feat," Myers said. "When a lot of government research was declining, ours was going up.
"This is all accomplished because we have really hardworking research faculty here, and then I think we have excellent administrative support for research, both centrally and decentralized," Myers continued. "We're making it easier for people who have really good ideas and want to get funded to get the funding they need to write the grants to get the awards. Success breeds success, and that's what you see on this chart."
Educational
experience
Myers boasted of the university's recent positions on the Princeton Reviews annual rankings of 385 colleges in the country. This fall, K-State ranked No. 2 for best quality-of-life and No. 3 for happiest students and for students who love their college.
"That, to me, says a lot of things, but it says a lot of things about our faculty and the way our faculty cares about students and student progress," Myers said.
He also said that K-State's six-year graduation rate stands at a record 65.2%, referring to the number of students who started college in 2013 but have graduated in the six years since. K-State also conferred a record 207 doctorates last school year.
The university is also working to begin its physician-assistant program as well as a nursing program in partership with Wichita State University. Myers said those programs will help attract more students to K-State and hopefully address a need for those skills in the region.
Faculty and staff
Myers said the university is filling three new university administration posts: vice provost for student success, vice provost for enrollment management and associate provost for institutional research.
Those are not entirely new positions, Myers said, but rather positions that have been repurposed.
He said that while he couldn't yet announce names, the university has made an offer to two people who have essentially accepted two of the jobs. Myers did not specify which of the positions he was referring to.
Facilities
and infrastructure
Myers said the university has invested $569.5 million in academic facilities since 2012.
The university has several facilities projects in the works, including the restoration of Hale Library, K-State's central library that was heavily damaged in a May 2018 fire incident. The library's first floor opened earlier this semester, and the rest of the building will open in stages over the next year. The historic Great Room will likely take a little longer to restore, Myers said.
Initial construction for the Morris Multicultural Student Center is underway, and the K-State Student Union-adjacent center is on track to open by fall 2020.
After the Hale Library fire, in which much of K-State's network infrastructure was taken out by sprinkler water, Myers said that Information Technology Services is in the middle of moving much of its storage to cloud storage.
Derby Dining Center is also undergoing a $16 million renovation this year, although the center remains open. Workers will break ground on a $6 million project to expand McCain Auditorium's lobby in June with an estimated February 2021 completion date.
Fundraising and enrollment
Apart from the main areas identified in K-State 2025, Myers also highlighted some of the university's other accomplishments. In April, the university's All In donation event raised $320,000 for the student food pantry Cats Cupboard to combat food insecurity on campus. More than 1,000 students have visited the pantry since it opened two years ago.
The university also beat its Innovation and Inspiration Campaign's goal to raise $1 billion by June 30, 2020. So far, the university has raised $1.4 billion, and Myers projected that the campaign will finish in June with $1.6 billion raised.
K-State's endowment grew to $613.4 million, representing an 82% increase since 2011. The university has raised $84.7 million fo scholarship and student success endeavors in the past two years, including 375 new scholarships.
The university is in the middle of a two-year budget transition to a revenue-center model, which is intended to allocate university funding to departments based on performance. Myers said this budget model allows for better transparency in understanding how budget decisions are made.
"You might not like what you see, but it's all going to be there," Myers said. "Before, it was behind a curtain."
K-State also will look to bolster its revenue by bringing enrollment back up, Myers said. With three new administrative positions to oversee enrollment initiatives, the university's strategic enrollment plan will focus on new marketing and communication strategies, particularly in attracting out-of-state students to Kansas.
Myers said that although the university currently has less than 22,000 students, the campus still has the capacity for its 2014 peak of 24,000.
"Our goal is to get back to where we were in 2014, because that's what we were built for," Myers said. "We'd like to see that growth, then we can take time to assess if we're having an effect out there and attracting a lot of students, particularly from out of state. We'll make that decision then."