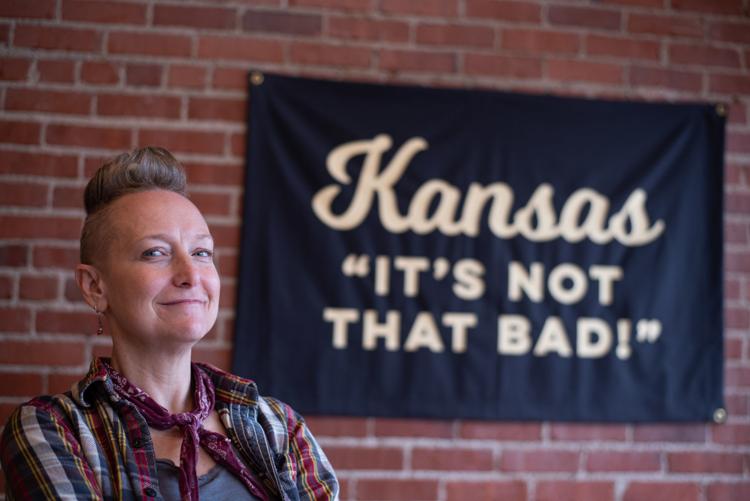 Combining creativity and her adoration for Manhattan makes for a perfect occupation for April Wagnon, 52.
"I love it," she said. "It's the best job ever. I get to listen to people laugh all day long. … And I get to make flowers. I get to play with flowers. I've got a pretty good gig."
She's the store manager at Acme Gift, at 1227 Moro St., which is a speciality gift store selling coasters, apparel, and other trinkets and items.
Because of this, Wagnon is able to tap into her creative outlets daily with making special gifts, like flower bouquets and cards.
Wagnon began her job after her significant other, Brad Benco, had an impromptu interview one day with Diane Meredith, Acme Gift owner.
"For years she's been saying, 'Come apply, come apply,'" Wagnon said. "I thought she was just being nice."
Wagnon has been in her position for the past three years.
She left her hometown of Great Bend to study cultural anthropology at Kansas State University in 1991, but did not graduate.
She got married and had two daughters, and later divorced. But, she loved the community so much that she decided to stay and raise her daughters.
She started making jewelry to save money on gifts during this time.
She specializes in trade beads, which refers to decorative glass beads used as a form of currency between the 16th and 20th centuries, in her Red Yard Originals business.
"Some are just a couple hundred, but they're what I like," she said.
In her jewelry making, she uses natural stones and no chemicals. Wagnon said she likes to support cottage industry, which are businesses run by people out of their homes.
Since she started as Acme store manager, Wagnon has collaborated with the public and other businesses in Manhattan.
"We work hard, we play hard," Wagnon said. "We do it together, and we've got a real family. We really do have a real family feel. We really do have each other's backs, and we care about what happens to not just one store; we have our eye on the big picture, all of us."
She loves being a local and enjoys experiencing the farmers market, Aggieville, downtown and the USD 383 school system, among other aspects.
"Just the caring. I love that the city is embracing the LGBTQ community," Wagnon said. "I love that we're active politically."
In addition to serving customers, Wagnon does things for her employees. This past weekend, Wagnon made what she called "master tonic," an immune system-boosting drink.
She said the tonic would help keep her staff healthy.
"Once that's fermented, I'm going to pass it out at work. It'll keep my staff healthy and my labor budget healthy," she said with a laugh.
Laura Rouw, Acme employee, said Wagnon is "unapologetically herself."
Rouw said she enjoys working with Wagnon, and thinks of her as a mentor.
"I love April. She's one of my favorite people," Rouw said.
Rouw said Wagnon would do anything for her employees.
When Wagnon is not making jewelry or working, she enjoys reading and spending time with her two daughters, Grace, 17, and Jillian, 15.
"I chose to spend as much [time] as I can with them," she said.