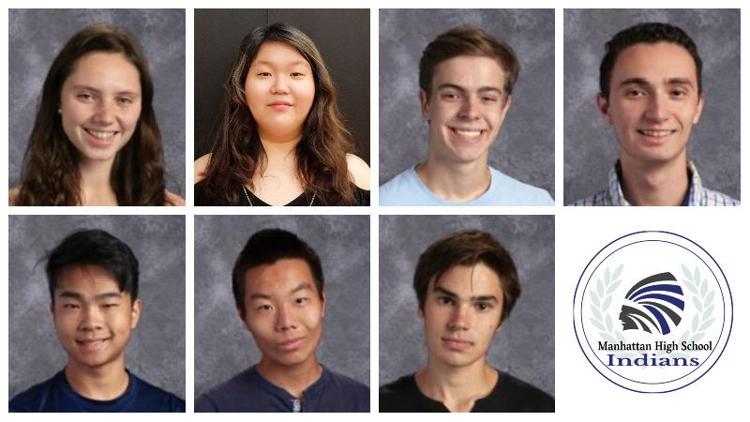 All seven of Manhattan High School's National Merit contestants were named finalists in the organization's annual competition.
The students — Elizabeth Hohn, Elizabeth Kim, Ethan Myer, Alejandro Ortiz, Allen Zhang, Robert Zhang and Stepan Zharkov — were named among the 16,000 semifinalists that the National Merit Scholarship Corporation announced in September. The organization then picked and announced 15,000 finalists in September, including the Manhattan High group.
"It's an example of the hard work that our students put in during their time at Manhattan High," principal Michael Dorst said. "These are amazing people. They're good people. The great things that will come from them after they graduate and leave our school will be amazing. There will be world problems that will be solved by those students."
Dorst said the students are part of Manhattan High's legacy of academic success. Only the top 1% of students are selected as finalists, and Manhattan High, which graduates over 400 students each year, had seven finalists this year.
"We have a long tradition of students graduating and doing great things, and you are reminded of that yearly," he said. "This is our yearly reminder of just a small sample of the great people we have in our building."
About half of the finalists will become National Merit scholars and win one of 7,600 scholarships, cumulatively worth more than $31 million. Those scholarships will be announced later this spring.
FIT Closet looking for donations
The Manhattan-Ogden school district's FIT Closet is short on some items, but particularly hygiene items, for the families that use the clothing and supply exchange.
FIT Closet coordinator Tracee Emery said the closet's biggest needs at the moment are toilet paper, full-sized deodorant (both men's and women's) and full-size shampoo and conditioner. As far as clothing, the closet is short on men's boxer briefs (small, medium and large) and women's underwear (sizes 5-9).
Emery said that while clothing needs differ as the seasons change, demand for hygiene items tends to be consistent throughofut the year. Emery said the shop's volunteers give families four rolls of toilet paper when they request it, and last semester, they gave away 2,531 rolls.
In order to "shop" at the closet, families must have at least one student enrolled in a school within the geographic boundaries of the Manhattan-Ogden school district, although that includes area private schools and home schooling.
They must also meet the same income guidelines that would qualify their students to receive free or reduced-price lunch.
Families are allowed to shop at the closet, which completely relies on donations, once a month. About 35 families visit the shop each week, Emery said.
The closet, which is at 1609 College Avenue, is open for shoppers and donations on days school is in session Mondays, Wednesdays and Thursdays from 9 a.m. to noon, Wednesday from 6 to 8 p.m. and Thursday from 3 to 5:30 p.m. The closet also takes online donations through its Amazon Wishlist, which can be found at fitcloset.org.
Robinsons
recognized
as Volunteers
of the Year
for K-State service
The Council for Advancement and Support of Education named Sylvia and Roy Robinson as the 2020 Volunteers of the Year for District VI for a legacy of service at K-State.
The Robinsons, founding members of K-State's Black Student Union, were students at K-State during a time of social unrest in the late 1960s.
Roy was a member of the Reserve Officer Training Corps while at K-State, graduating with a degree in milling science and management. He retired as president of ADM in Overland Park.
Sylvia was a charter member of Delta Sigma Theta and a K-State cheerleader before she graduated in 1971 with a degree in elementary education. She served on the Kansas Board of Regents, the board of the Kauffman Fund for Greater Kansas City and the Kansas City, Kansas, Board of Education.
The couple retained extensive ties to K-State, and the K-State Alumni Association named them Alumni Fellows in 2005. The association also endowed the Robinson Family Multicultural Leadership Award, which recognizes four graduating students who leave a legacy of enhancing multicultural engagement at K-State through their leadership.
"Roy and Sylvia Robinson put the knowledge and experiences they received at K-State to good use," said Amy Button Renz, president of the association. "Through their involvement and generosity K-State is a better place. We are truly honored to count them among our alumni and thrilled for them to receive this prestigious award."
The Robinsons said their K-State experience gave them the opportunity to become leaders and influenced their later paths.
"For me, as a first-generation college student, going to K-State and being successful, it was a life-changing moment," Sylvia said. "That degree alone began to open doors to me. It changed my life trajectory. It empowers you in ways you didn't even know you could be."
"My time at KSU changed my life," Roy added. "It allowed me to move forward in life — to have a good life and to help others. You have to be at the table to make a difference."
K-State picks 2020 common book
K-State's fall 2020 freshmen will be given a copy of "The Boy Who Harnessed the Wind," a memoir of a Malawian boy who built a windmill to generate electricity for a water pump in his drought-stricken village, the university announced Friday.
Each year, a committee of about 50 K-State faculty, students and staff picks a common book for freshmen, as well as the broader university community, to read. Professors in various freshman-level classes incorporate the book into their curricula, and the committee schedules programs and events based on the themes of the book.
"This book offers a global perspective on topics we are discussing at K-State and the region: wind energy, food insecurity, access to education, trade, and sustainability as well as many others," said Tara Coleman, chair of the K-State First Book committee and K-State Libraries associate professor.