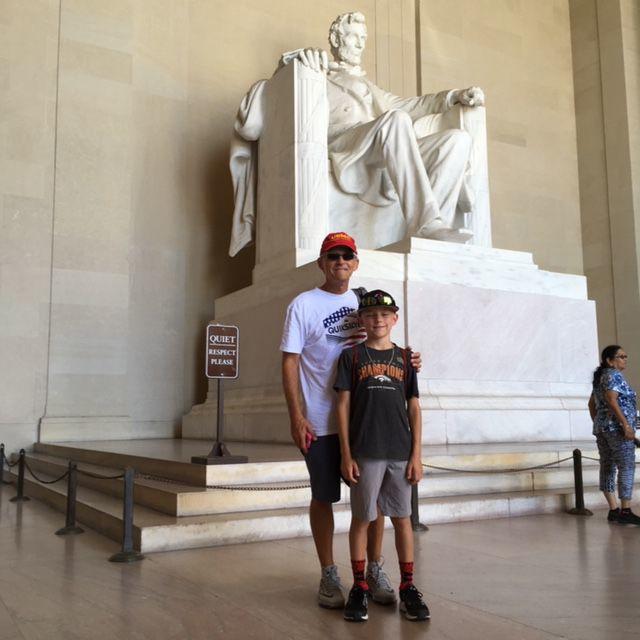 Over the past year, Bob Funk has traveled across the country with his 10-year-old grandson, Jackson Bruce, to teach him about U.S. history.
"I don't think kids learn enough about our nation's history," Funk, Manhattan, said. "I started thinking about this idea and both my wife and daughter thought I was crazy, but the more we talked about it, the more benefits we saw. I just wanted him to be able to see the places where American history was made. That's the best way to learn it."
As a former educator, the 66-year-old is passionate about ensuring that Bruce, the eldest of his five grandchildren, is knowledgeable about the subject. Funk most recently retired as the principal at Humpreys High School in South Korea, a Department of Defense school, about six years ago. Before then, he'd been a career military man, serving as an artillery officer in the Marine Corps until he retired in 1994.
Funk said he planned six trips for him and his grandson, each one centered around a different theme like America's founding, westward expansion, civil rights, music and more. His wife, Wendy, also joined the two for some of the trips.
Each trip lasted for about a couple of weeks before they returned to Kansas for a short break and eventually set out again for the next leg of the journey. Funk said Bruce had to be home-schooled during that time because they were traveling so often.
The first stop was Washington, D.C., to explore how the U.S. was founded.
"The very first place we went was the National Archives because I wanted him to see the Declaration of Independence, the Constitution and the Bill of Rights," Funk said. "I said, 'Jackson, when we go in there, look at my arms because I'll have goosebumps.' I wanted him to see where it all started, as far as becoming a nation."
While driving through the Midwest, South and North, the group viewed grave sites of prominent American figures, national monuments and memorials, battlefields, museums and more.
Bruce said he learned a lot about history over the course of the year, as well as got to see several places and subjects he wouldn't typically learn at school. They also had several chances to visit friends and family he doesn't get to see often.
"D.C. had to be my favorite, following it was probably Gettysburg," Bruce said. "Gettysburg is such a famous battlefield and it's just a cool experience to be there. DC had a ton of historic things like the Declaration of Independence, the Constitution and a ton of memorials, so it was all pretty cool to me."
At the end of each day, Funk asked his grandson to write about what he'd seen and also quizzed him on facts along the way.
One of the particularly sobering experiences, Funk said, was visiting the mass grave at Wounded Knee Creek in South Dakota, where U.S. soldiers killed hundreds of Native American men, women and children in the late 19th century.
"I wanted him to see what to love about our country and be a patriot, but I also wasn't going to just show him the good things," Funk said. "I was going to show him the bad things as well."
Bruce said visiting the battle site and nearby reservation helped him understand Native Americans better and learn not to judge books by their covers.
"The (government) just came in and told the Indians to move, and they just booted them off their land and reservations," he said. "That was probably the worst time in our history and that's probably the best lesson I learned."
After exploring westward expansion, the group traveled through the south and Tennessee to learn about civil rights and the birth of American music. The final trip was to Alamo, Texas.
"By the time this was all over, Jackson's famous words were 'I'm all historied out,'" Funk said. "He was a trooper."
Funk said if Jackson were to take anything from the trip, he hoped he remembered most the conversations they had, not just about history but about what kind of person he should grow up to be. Bruce said Funk emphasized four cardinal virtues, important character traits he needed to be a good person.
"The other thing I wanted to accomplish with this was to spend a lot of time with (Jackson) and talk to him about character and things like that," Funk said. "We talked a lot about growth, character and how I wanted him to grow up, what kind of person I wanted him to be, so hopefully some of that sunk in.
"Spending so much time together, he certainly got a chance to talk to me more without distractions," Funk said.
"That was the greatest thing being in the car and being able to talk. That's what I hope he remembers, more than just going to see these things, but the time we got to spend together and talk about life."