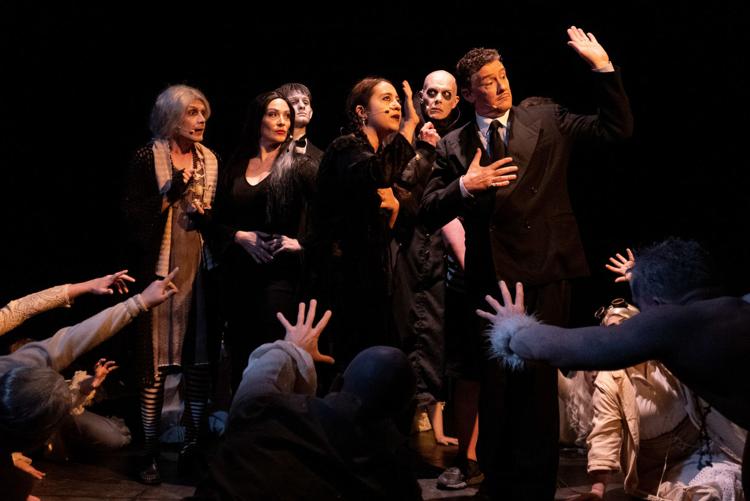 Ba-da-da-dum, snap-snap.
Ba-da-da-dum, snap-snap.
They're creepy, kooky and spooky.
As the last dead leaf of autumn falls from the Addams Family Tree, all is right with the morbid, macabre world of Gomez, Morticia, Fester, Grandma, Wednesday, Pugsley and Lurch. They've gathered in the family graveyard to celebrate life and death, but Wednesday is dreaming of love with Lucas Beineke, an ordinary boy from Ohio.
The Manhattan Arts Center presents the Broadway musical, "The Addams Family," again this weekend.
With music and lyrics by Andrew Lippa, book by Marshall Brickman and Rick Elice, this MAC production is brought to life by director Penny Cullers.
Shows are at 7:30 p.m. Friday and Saturday and 2 p.m. Sunday, as well as Oct. 11-13. For tickets and information, visit manahttanarts.org.
Ease on down the road, the yellow brick road (or just Highway 24) to another Broadway show happening this weekend in Wamego as part of OZtober Fest. For tickets and information, visit columbiantheatre.com.
The longtime favorite, "The Wizard of Oz," returns to the Columbian Stage again this weekend. Shows are at 7:30 p.m. Thursday through Saturday and 2 p.m. Sunday.
Also this weekend are puppet shows, live music and entertainment, booths, vendors and more. For a complete list of events and activities, visit visitwamego.com.
Here's a look at other area events.
THURSDAY
Jazz Night on the Patios, 6:30 p.m.
Liquid Art Winery.
Open Mic Comedy Night hosted by Mary Renee, 9 p.m. Thursday.
Auntie Mae's Parlor.
FRIDAY
PreK Dance Party, 10 a.m. Also 11 a.m. Saturday.
For a complete list of storytimes and events, visit mhklibrary.org.
Manhattan Public Library.
Tallgrass Tales: Corn by Gail Gibbons, 10:30 a.m.
Youth ages 2-6 will enjoy a different story at each session and then participate in a simple activity designed to connect with the themes of the story.
Flint Hills Discovery Center.
Happy Hour Yoga, 5 p.m.
Take any evening yoga, spin, or barre class and receive $1 off any Public Hall cocktail.
Orange Sky Yoga and Public Hall.
Paint & Sip: Simply Meant to Be, 6:30 p.m.
Also Mermaid at 6:30 p.m. Friday, Make a Splash at 6:30 p.m. Saturday, and Four Seasons at 4 p.m. Sunday.
Kids Kanvas: Kitty, 10 a.m. Saturday.
For information and to register, visit uncorkedinspiration.com.
Uncorked Inspiration.
UPC Film: "Monty Python and the Holy Grail," 7 and 9:30 p.m. Also Saturday.
All films are closed captioned.
Cost: Free for K-State students, $1 for non-students.
K-State Student Union Wildcat Chambers.
K-State After Hours: DIY to the Max, 8-10 p.m.
K-State Student Union Courtyard.
SATURDAY
Downtown Farmers Market, 8 a.m.-1 p.m. in Dillard's parking lot.
Also 4-7 p.m. in the Via Christi parking lot.
Featuring homegrown vegetables, local meat, home baked goodies, local arts and crafts and much more.
First Saturday Cars and Coffee, 9-11 a.m.
Also National Teacher Appreciation Day, 9 a.m.-5 p.m. Free admission for teachers with school ID.
Midwest Dream Car Collection.
Stop-Motion Studio: Family Edition, 1-5 p.m.
Bring a few family photos and turn them into a stop-motion short. MAC provides iPads with the Stop Motion Studio Pro app or you may bring your own.
Cost: $45, up to four people, limited to five families.
Manhattan Arts Center.
Volland Store Cellar and Barn Tours, 1-5 p.m. Also Sunday.
Tour barns around the Flint Hills on a guided bus tour.
Also Tallgrass Tales: Stories from the Flint Hills featuring filmmaker Mark Feiden, 2 p.m. potluck lunch at 12:30 p.m. Soup, beverages, and table service provided.
For information, visit thevollandstore.com.
12th Annual Stroll Off, a Multicultural Greek Dance Showcase, 6 p.m.
K-State Student Union Forum Hall.
SUNDAY
Jazz Brunch, 10 a.m.-noon.
Bluestem Bistro.
Wonder Workshop's Underground Railroad Tour, 1-4 p.m.
Journey back in time to Underground Railroad sites in Riley and Wabaunsee counties.
Cost: $25. To reserve a spot, call 785-776-1234 or email wonder@wonderworkshop.org.
League of Women Voters Candidates Forum, 1:30-5 p.m.
Manhattan Public Library.
Open Trail Days at Prairiewood, 1 p.m.-dusk.
No pets. Campfire at 7 p.m. at the Blue Sage Barn.
Also featuring Autumn Seed Collecting at 5 p.m.
Courtney Masterson, ecologist and owner of Native Lands LLC, will be leading a seed collecting activity on Prairiewood's Preserve.
Cost: Free. No RSVP needed. Family Friendly.
Check-in at the Blue Sage Gallery, 1484 Wildcat Creek Road.
Rocky Ford School House: Open House, 2-4 p.m.
Rocky Ford School House.