---
---
---
Day of honor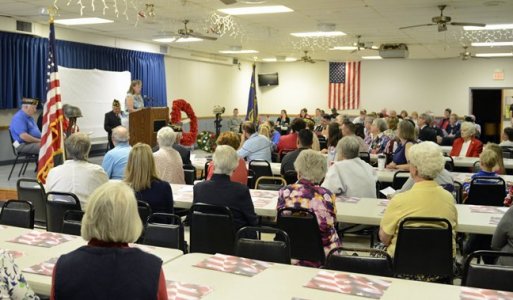 Charlene Redman reads the "Address in Flanders Field" during a Memorial Day ceremony Monday morning at the American Legion Hall.
Local | Government, Politics | May 25, 2015

The Manhattan City Commission will begin 2016 budget discussions Tuesday during a work session.

Local | Business | Neighbors | May 25, 2015

Dianne Paukstelis takes delight in acting, pageant directing

Local | Kansas State University | May 24, 2015

Documenting the Kanza Indian Village lost to time, erosion

Local | Business | May 24, 2015

Pageant contestants bring style, substance to stage

Local | Government, Politics | May 24, 2015

Cash crunch makes public input key for planners

Local | Business | May 24, 2015

Taphouse to offer a bevy of craft brews

Local | Police, Courts, Emergency | May 24, 2015

Junction City woman, 18, killed in rollover accident
---
Baseball | May 24, 2015

Wildcats end season with loss to OU

Kansas State had its season come to a close Friday night, as Oklahoma scored a pair of two-out runs in the top of the ninth to eliminate the Wildcats from the Big 12 Championship with a 3-1 win at ONEOK Field.

Baseball | May 22, 2015

Cowboys shut down K-State, 10-1

For the second time this season, Kansas State was limited by Oklahoma State's Michael Freeman, as the Cowboy left-hander tossed a complete game and allowed just six hits in beating the Wildcats.
Football | May 22, 2015

Wildcats add JUCO quarterback

Contra Costa College quarterback Jonathan Banks announced his commitment to the Wildcats this week, throwing his name in the mix into the three-headed race between junior Joe Hubener, sophomore Jesse Ertz and true freshman Alex Delton.

Track & Field | May 22, 2015

Bryan, Mitchell named Big 12 top freshmen

Christoff Bryan and A'Keyla Mitchell were honored by the Big 12 for standout 2015 outdoor campaigns on Thursday.
Subscribers can access
a list of local public employees' 2014 pay records
.
---
You can
subscribe for as little as $1.99
.
Text Alerts
---
Get the latest news, weather and sports updates from The Mercury sent to your phone.
Poll
---
How is finals week going for you?
---
---
Terms of Service | Privacy Policy | The Manhattan Mercury, 318 North 5th Street, Manhattan, Kansas, 66502 | Copyright 2012
Reproduction of any kind is prohibited without written consent.